Jump start your analysis with the example workflows on the KNIME Hub, the place to find and collaborate on KNIME workflows and nodes. It offers a wide range of functionality, including to easily search, share, and collaborate on KNIME workflows, nodes, and components with the entire KNIME community. Learn more here.
The workflows on the KNIME Hub are also a useful resource to learn about different use cases in KNIME Analytics Platform.
To access the EXAMPLES Server:
Expand the EXAMPLES mount point in the KNIME Explorer

Next, double click to see the example workflows ordered by categories, as shown in Figure 1. No credentials are necessary.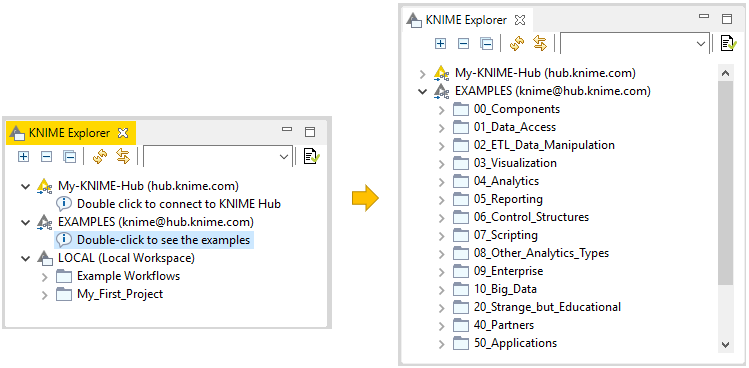 Some workflow groups are named after single operations, e.g. filtering

Some workflow groups have names that refer to broader topics, e.g. time series analysis

The "50_Applications" workflow group contains workflows that cover entire use cases like churn prediction or fraud detection
To download an example workflow:
Drag and drop

Or, copy and paste
the workflow into your LOCAL workspace. Double click the downloaded copy of the example workflow to open and edit it like any other workflow.